In order to add the shortcodes to the any post or page all you need to do is copy the relevant shortcodes and paste them inside the relevant posts and pages.
You can find the shortcodes by going to Wishlist Pay Per Post Shortcodes menu > Dashboard tab or copy-paste them using the below table.
The Dashboard Tab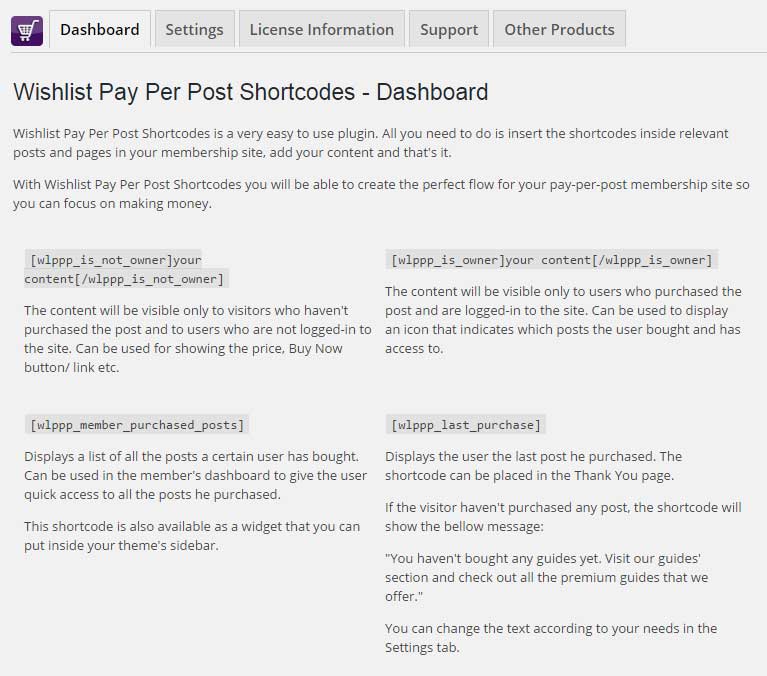 The Shortcodes
Shortcode
Description
Possible Uses
[ wlppp_is_not_owner ] Your
content [ /wlppp_is_not_owner ]
The content inside the shortcode is visible only to visitors who haven't purchased the post (in the excerpt)
To display the post's price, Buy Now button/ link etc.
[ wlppp_is_owner ] Your
content [ /wlppp_is_owner ]
The content inside the shortcode visible only to members who have bought the post
To display an icon in the excerpt
what posts the member has
access to
[ wlppp_member_purchased_posts ]
Displays a list of all the posts a certain member bought
To display the list inside the Member's Dashboard
[ wlppp_last_purchase ]
Display the member his last purchase
To display inside the Thank You page
The Settings Tab
Using the plugin you can also display different messages according to the user's status:
Users who are not logged-in to the website
Users who are logged-in, but haven't purchased any pay-per-post yet
The correct message will be automatically displayed by the shortcodes.
In the Settings tab you can easily customize the messages to your needs as you can see in the below screenshot: