After members register to your membership site an email with their login details is sent to them by the Wishlist Member plugin.
The Wishlist Auto Registration plugin does not change the functionality of Wishlist Member, but it uses the details returned from the payment gateway to auto-register the member to the membership site.
The email with the login details is still sent to members by the Wishlist Member plugin and there is no setting in Wishlist Auto Registration that overwrites these settings.
Wishlist Member Email Settings
The membership details email settings can be found in Wishlist Member > Email Settings > Under Email Templates as seen in the below screenshot: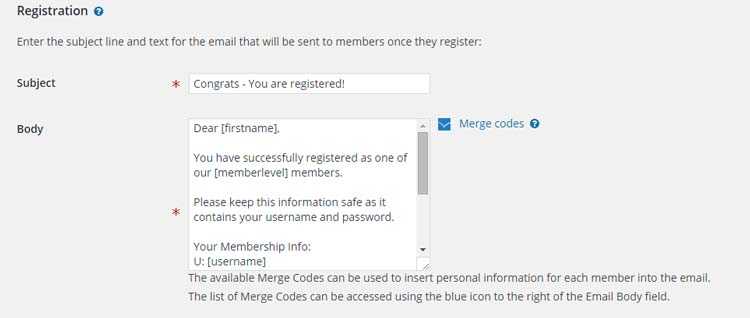 This is the membership details email sent to members: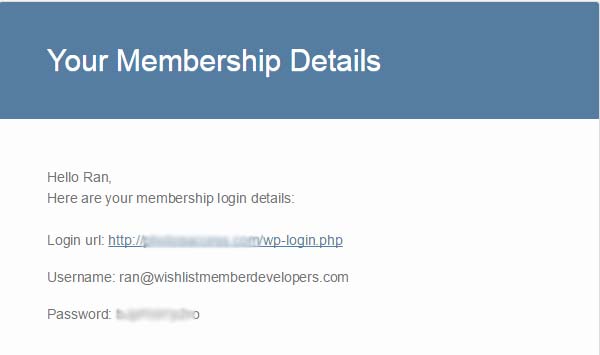 Why are Customers not Receiving the Email?
If the login email is not received by members, or if they are received only after several hours then this is not a problem with neither Wishlist Member or Wishlist Auto Registration as it is your server that is responsible for sending all emails.
This means that your server is probably blacklisted, so any emails that are sent from this server can be delayed or marked as spam and not get delivered at all.
You can use SMTP (Simple Mail Transfer Protocol) and it can solve the problem temporary, however, if your server is blacklisted then the emails may be sent, but they will not be received by some members.
What to Do if Customers are not Receiving the Email?
There are 2 options:
Ask your hosting company to check if the email is in the emails queue and why it is delayed / not sent
You can use 3rd-party services like Mandrill in order to improve the email delivery. These 3rd-party services send all the emails using their own servers and not your own, and give you a lot of statistic information about the emails your website is sending, whether or not the customers ever opened them etc.