We created a live demo website for Wishlist Registration Widget to allow you to experiment with the plugin's settings and allow you to experience how you can set it up very quickly and start boosting your registration immediately.
The demo website has a demo for the Premium version of Wishlist Registration Widget which includes all the features that are also in the Basic and Pro versions.
You will find the full comparison table between all 3 versions in the plugin's manual (page 11).
Special Discount Note:
If you decide to purchase the plugin, you will receive 5% discount (regardless of the version you decide to purchase – Basic / Pro  / Premium). The discount code will be sent to you by mail after you register to try the demo.
How to Create Your Own Private Demo Website
In order to create your own private demo website where you can experiment with Wishlist Registration Widget, go to the demo website in this link and follow these 2 simple steps:
Step #1: Enter your email as seen in the screenshot below
You can rest assure that we will not spam you or pass your email to any 3rd-party websites.
In this step you will also find links to important information about Wishlist Registration Widget such as: the plugin's manual, documentation and more.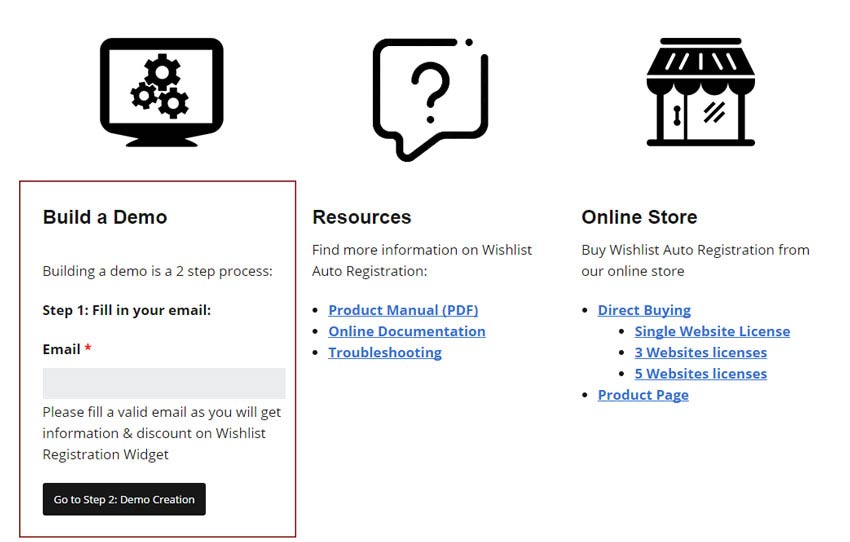 Step #2: Create Your Private Demo Website
Fill-in the answer to the math Captcha and click on "Try the demo!" button to create your private demo website: