After you have installed and activated Wishlist Smart Shortcodes, you will need to activate the plugin's license and also the licenses for the relevant add-ons you have purchased (if any).
Activating the Core Plugin License
To activate Wishlist Smart Shortcodes go to WL Extensions menu under Smart Shortcodes as seen in the screenshot below: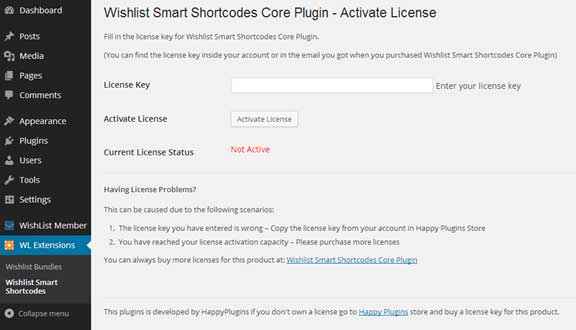 Activating the Add-Ons License
If you also purchased any of the add-ons in addition to the core plugin, you need to copy each of their license keys fro, the purchase receipt and paste them inside Wishlist Smart Shortcodes plugin settings under the Add-Ons tab as seen further below.
Please note, the core plugin is a must have, whether you purchase any of the add-ons or not. Activating any of the add-ons can be done only after you have activated the core plugin's license.