In this article you will find the activation process of the MemberPress WooCommerce Plus plugin.
Step #1: Plugin Download
Download MemberPress WooCommerce Plus Core plugin zip file from the Purchase Receipt you received to your email.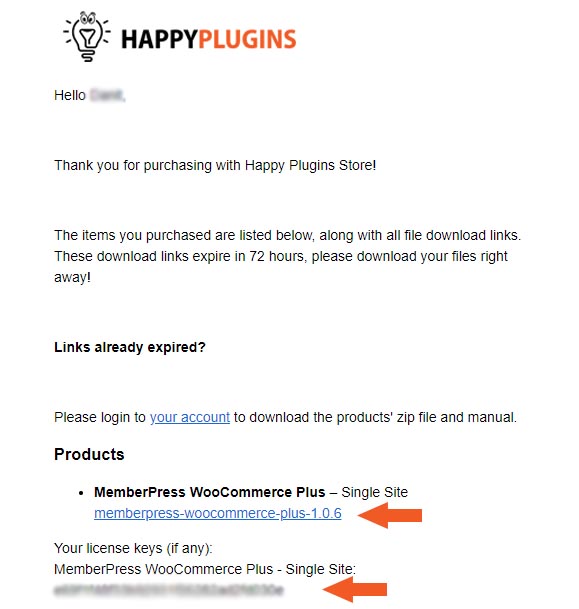 Step #2: Plugin Installation & Activation
Install the plugin just like any other WordPress plugin from the Plugins menu > Add New.

Step #3: License Activation
Activate the plugin's license using the license key you received to your email and that can be also find on your account at http://happyplugins.com/your-account/

Step #4: Configuring MemberPress WooCommerce Plus Settings
After you activate the plugin's license, all the settings will automatically update in the Settings tab. Go over them and change them according to your needs.
These are the settings you can define:
Username Format – Email / First Name + Last Name / Email Prefix
Email Settings – Information in the email sent to members (email, name, subject and message)
Custom Login URL – If you want to use a  different login URL than the WordPress login URL
Custom Redirection Page – If you want members to be redirected to a different page than the WooCommerce Order Receipt page customers are redirected to after completing a purchase
Redirect Only Orders with Membership Products – Redirect only MemberPress members / all customers who complete a purchase
Mark Order as Complete – Select if you want that any order which includes membership products will be automatically marked as completed
Step #5: Configuring the Membership Products
In order to add a new membership product go to the Products menu > Add New > Scroll down to the Product Data meta box > MemberPress tab.
Activate the membership product, choose the relevant MemberPress memberships and set the value an expiration (if expiration is relevant).
Please note: Defining the memberships value is important in order for MemberPress to calculate and display each membership's value in the reports that can be found in the MemberPress menu > Reports